HOTEL & TRAVEL GUIDE
The entire Zumba® Instructor Convention (Fitness-Concert™ Event, Sessions, Instructor Training Courses, exhibitor booths, theme party, keynote address, etc.) will be held inside The Hyatt Regency, the South Foyer and Hall of the Orange County Convention Center (venues connected through internal walkway), the Rosen Centre and the Hilton Hotel Orlando. Everything will be located within walking distance from any of the hotels in our room block.
(1)
(2)
(3)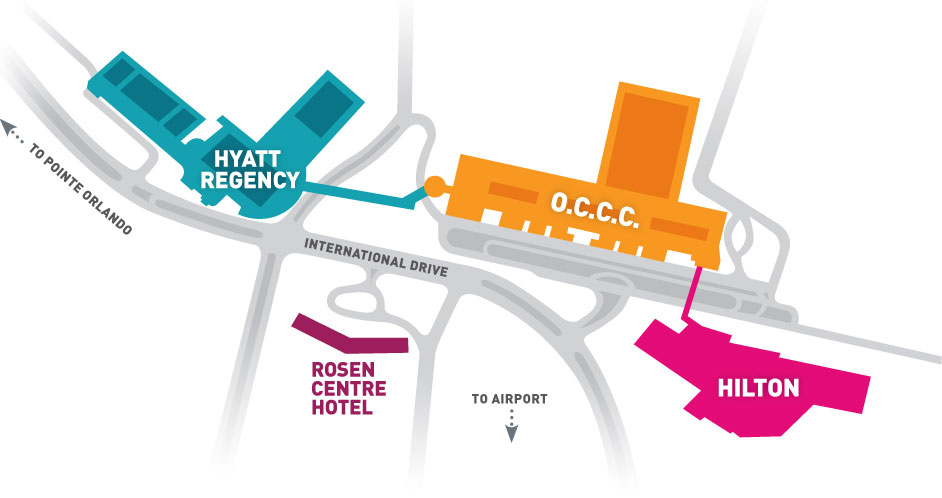 View Orlando Convention 2014 in Google Maps.
ConferenceDirect is the Official Housing Bureau for the 2014 Zumba® Instructor Convention? and will be managing all reservations until July 22, 2014 5pm EST. If you would like to confirm or make modifications to your hotel reservation, and/or have any questions please email [email protected] or call (888)751-5399.

Forest Travel Agency is the official travel agency for the 2014 Zumba® Instructor Convention. Call 305-932-5560 to book flights at unbeatable prices.

This year, we have teamed up with Orlando Convention Aid to help you make the most of your time in Orlando. Available discounts include restaurants, golf, attractions, nightlife, shopping and much more. Each listing offers detailed information and discount coupons that can be printed. They can also make your dinner reservation, book your group dinner party or event. This web site will help you plan your time during your stay in Orlando. This web site will help you plan your time in Orlando and SAVE MONEY!